The compact Sky Watcher STARTRAVEL series are two element, air spaced, multi coated objective, achromatic refractors, and are well proven performers for Rich-Field views
ONLY £189.00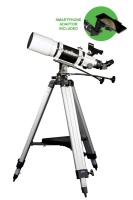 ---
The compact Sky Watcher STARTRAVEL series are two element, air spaced, multi coated objective, achromatic refractors, and are well proven performers for Rich-Field views of star fields
ONLY £189.00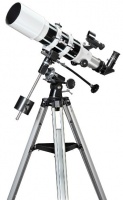 ---
High Quality Starter Scope on EQ Mount
If you're looking for a dual-purpose telescope appropriate for both terrestrial and celestial viewing, then the AstroMaster Series is for you. Each AstroMaster model is capable of giving correct views of land and sky.
The AstroMaster Series produce bright, clear images of the Moon and planets. It is easy to see the moons of Jupiter and the rings of Saturn with every one of these fine instruments. For views of the brighter deep space objects like galaxies and nebulae, we recommend the larger aperture and light gathering ability of the Newtonian reflectors.
ONLY £239.00 £190.00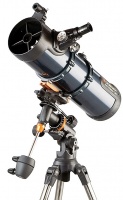 ---
The EXPLORER-130P models feature premium-quality Parabolic Primary Mirrors, normally found in larger more expensive telescopes, to eliminate spherical aberrations, producing even sharper, higher-contrast images which are full of detail.
ONLY £190.00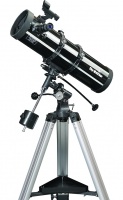 ---
With an extremely useful 130mm of light gathering aperture and a superb parabolic primary mirror, the EXPLORER-130PS is a highly capable all-rounder for the observation of the Moon, bright planets, nebulae, galaxies and star clusters.
ONLY £192.00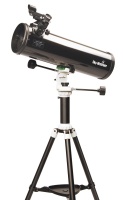 ---
These instruments offer an incredible aperture-to-price ratio. The Dobsonian mount, popularized by John Dobson in the late 1970's, is a very simple but effective method of mounting a Newtonian Reflector, based on the alt-azimuth principle.
ONLY £207.00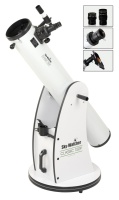 ---
The new Sky-Watcher EXPLORER-150PDS Newtonian Reflector incorporates the same superb mirror-set as the Explorer-150P Black Diamond Series, but with two significant advantages.
ONLY £218.00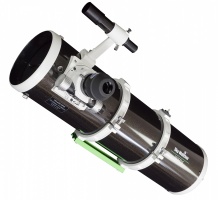 ---
120mm (4.75") f5 Refractor
Diameter: 120mm
Telescope Focal Length: 600mm (f/5)
Eyepieces Supplied (1.25"): 10mm & 25mm

ONLY £225.00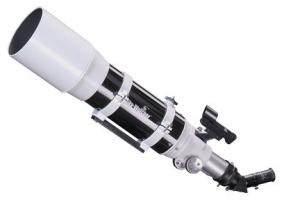 ---
The Sky-Watcher EVOSTAR-90 is a classic two-element, air-spaced, achromatic refractor. With its long focal length it is ideal for the detailed high-power study of the Moon, Planetary Surfaces and other objects in our solar system, providing crisp contrasty images.
ONLY £229.00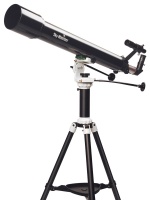 ---
Offers the same high contrast, high magnification Maksutov optics as the Skymax-90/EQ-1 but has more aperture and a larger more sturdy mount.
ONLY £244.00