127MM (5") F/1500 MAKSUTOV-CASSEGRAIN TELESCOPE
Magnifications (with eyepieces supplied): x60 & x150
Highest Practical Power (Potential): x254
ONLY £405.00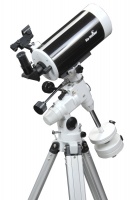 ---
One of our most popular Dobsonian telescopes because it is generally considered to be the largest aperture solid tube Dobsonian that can still be comfortably setup and moved around the garden single-handed.
ONLY £422.00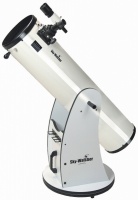 ---
Ideal No Fuss, Grab-and-Go Telescope for Easy Visual Astronomy as well as High Power Daytime Terrestrial Observations!! The compact but powerful SKYMAX-127 is ideal for the observation of double-stars, and the surface detail of the Moon and bright planets.
ONLY £429.00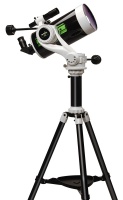 ---
Celestronís signature orange-tube telescope combines advanced features and excellent optics in one easy-to-use system, the NexStar 4SE. Itís the perfect choice for your first serious telescope, offering striking views at an economical price.
ONLY £439.00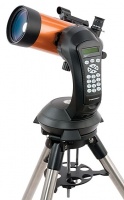 ---
The Sky-Watcher EXPLORER range are standard Newtonian reflectors of excellent quality ranging in aperture from a respectable 130mm to an incredible light-gulping 250mm aperture, catering for astronomers of all levels. Whether your interest is deep-sky, the Moon and planets, or a combination of both, the EXPLORER range offers excellent all round performance. Tube material: Aluminium
Magnifications (with eyepieces supplied): x40 & x100
Highest Practical Power (Potential): x400
Diameter of Primary Mirror: 200mm
Telescope Focal Length: 1000mm (f/5)
ONLY £448.00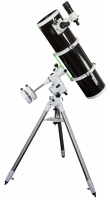 ---
Affordable entry to mid level computerized GOTO telescope
Designed to be an affordable entry level to mid-level computerized GoTo telescope, the NexStar SLT refractors, reflectors, and Maks are available in the most popular sizes and are loaded with valuable design features. With preassembled, adjustable stainless steel tripods, and quick release fork arms and tubes, NexStar SLT telescopes can be set up in a matter of minutes Ė with no tools required! You can see details of the lunar surface, Venus and its phases, polar caps on Mars, Jupiter and its four moons, Saturn with its rings plainly visible and much more! Most NexStar SLTís can also be used as a land-based spotting telescope.
ONLY £449.00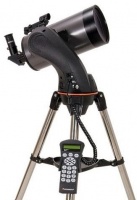 ---
The compact but powerful SKYMAX-127 telescope is ideal for the observation of double-stars, and the surface detail of the Moon & bright planets. Its high-resolution, long focal length optical system is multi-coated to maximise contrast and image sharpness.
ONLY £459.00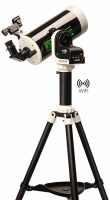 ---
Antares Elite is the new name for a range of high quality, high spec Achromat refractors only available at Rother Valley Optics. These feature glass that is used on much more expensive telescopes currently on the market.
ONLY £460.00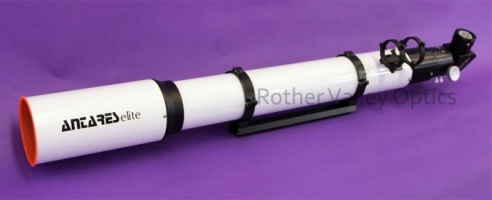 ---
The new EVOSTAR DS-PRO Series ED Apochromatic refractors in their stunning Black-Diamond livery, house premium optics of the same quality and performance level as our now legendary Equinox series, making them superb instruments for both imaging and visual observations.
ONLY £464.00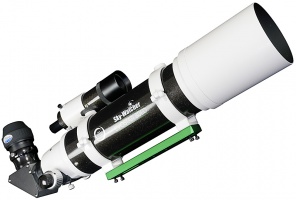 ---
150MM 6Ē (F/1800) MAKSUTOV-CASSEGRAIN TELESCOPE
Magnifications with Eyepieces Supplied: x64
Highest Practical Power (Potential): x450
ONLY £475.00