The Lightwave 66/400 ED refractor delivers very good colour correction. The ED doublet lens system features an ED element made from premium Japanese Ohara glass.
ONLY £369.00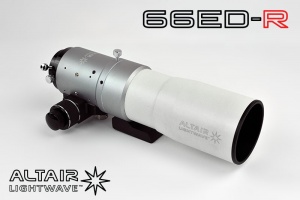 ---
NEW 2017 Version with S-FPL-53 ED Lens, Optical Test Report, and rear Camera Angle Adjuster (CAA). The ULTIMATE travel scope, suitable for wide field imaging or visual use, day or night-time.
ONLY £399.00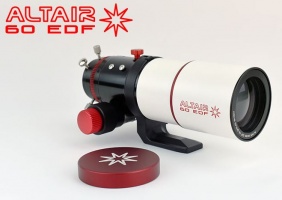 ---
Featuring ED optics, the travel-friendly Starwave 70mm F6 ED Doublet refractor can be taken anywhere. The optical tube folds down to just under 30cm length with the dewshield retracted, and weighs about 2kg.
ONLY £399.00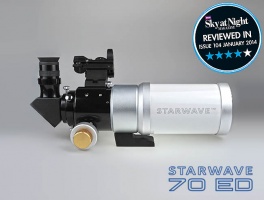 ---
Featuring Genuine ED optics, the Starwave ASCENT 80mm F7 ED Doublet refractor has an 80mm objective lens capable of both visual observation and wide-field imaging in one telescope.
ONLY £399.00 - £574.00
---
Please note this is a customer returned telescope, but as new. There are a few marks on the dovetail bar where it has been mounted, but apart from that, it's in excellent condition.
ONLY £519.00
---
This package includes the Starwave 70ED refractor with Diagonal, RDF Finder, 17mm quality eyepiece, plus the Starwave Mini-AZ Mount.
ONLY £529.00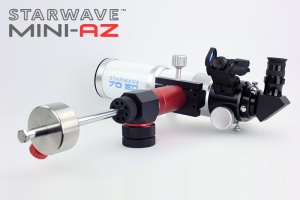 ---
The ASCENT 102mm F7 ED Doublet refractor has all the features you need for enjoyable visual observing and astro-imaging. The ASCENT will deliver both planetary and lunar views, or wide field views of deep sky objects.
ONLY £549.00 - £670.00
---
The ASCENT 102mm F11 ED Doublet refractor is optimised for visual observation and imaging of solar system objects. An evolution of the well respected "Red Tube Classic" Starwave 102 Achromat
ONLY £599.00 - £720.00
---
The Starwave 70 EDT-R refractor has a triplet ED lens system with premium Japanese Ohara SFPL-53 ED glass element. Super-high transmission coating (STM Coating) is used on all air-to-glass surfaces for high contrast.
ONLY £599.00 - £703.50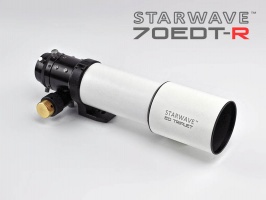 ---
The Starwave 80ED-R is a more compact and refined version of the orginal Starwave 80ED. It has improved optics in the form of an S-FPL53 based doublet objective lens providing superior colour correction, and a lighter more compact tube with a "Rack and Pinion" geared focuser.
ONLY £599.00