Beginners Telescopes
Here we have compiled a list of our recommended beginners telescopes. Ideal for first time users wanting to get started. We have a few different type such as refractors, reflectors and maksutov telescopes. All do certain things better than others. As always, if you need help in deciding on the best telescope, just get in touch with us.
Recommended accessories for all these telescopes are below with links that will open a new window.
Antares Moon Filter
Philips Planisphere
Antares Red LED Torch
Antares 0.5x Focal Reducer (only for Maksutov telescopes)
If you require any help with choosing the right telescope or help with accessories just get in touch on 01909 774 369 or email us at sales@rothervalleyoptics.co.uk.
The highly portable Sky-Watcher STARTRAVEL-102 (AZ-GTe), has been designed to be controlled wirelessly with your Smartphone or Tablet, using the free SynScan App for iOS or Android.
ONLY £349.00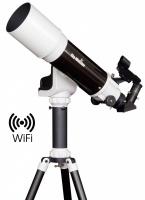 ---
Designed to be an affordable entry level to mid-level computerized GoTo telescope, the NexStar Star Locating Telescope (SLT) refractors and reflectors are available in the most popular sizes and are loaded with valuable design features. With pre-assembled, adjustable stainless steel tripods, and quick release fork arms and tubes, NexStar SLT telescopes can be set up in a matter of minutes — with no tools required! You can see details of the lunar surface, Venus and its phases, Mars resolved as an orange disc, Jupiter and its four moons, Saturn with its rings plainly visible and much more!
ONLY £394.00 - £663.00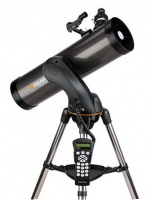 ---
The Bresser Messier 8" dobsonian is simply a breakthrough. Despite its low price, this telescope offers a versatility and quality rivaling much more expensive telecopes.
ONLY £399.00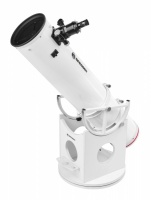 ---
The exciting new Sky-Watcher SynScan™ Alt-Azimuth GoTo Mount is a precision engineered instrument that will allow you to easily find and enjoy viewing night sky treasures, such as Planets, Nebulae, Star Clusters, Galaxies and much more.
ONLY £399.00