The FirstScope Accessory Kit expands the capabilities of your FirstScope telescope to make it more enjoyable and easier to use, enhance your views of the night sky, and make it safer to transport wherever you go.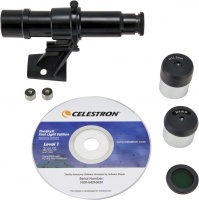 ONLY £22.00 £13.00
---
Named Official Product of International Year of Astronomy 2009, FirstScope pays tribute to the men and women who brought us one step closer to understanding the universe around us!
In 1609, world-renowned Italian scientist, Galileo Galilei, introduced an elementary telescope to the growing astronomy community which sparked interest into the mysterious night sky for centuries to come. Four centuries later, in celebration of the International Year of Astronomy 2009, Celestron offers the portable FirstScope Telescope. The FirstScope pays tribute to Galileo Galilei and many of history's most notable astronomers and scientists by displaying their names around the optical tube. We honor the contributions of these men and women, who brought us one step closer to understanding the universe around us.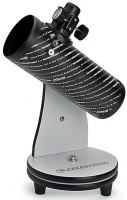 ONLY £79.00 £49.00
---
This Celestron eight-piece accessory kit enhances the performance of your telescope. Includes two high-quality 1.25" Plossl eyepieces, a 2X Barlow lens that can be used visually or photographically, three eyepiece filters, a cleaning cloth, and a case.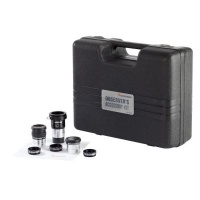 ONLY £69.00
---
The latest addition to the X-Cel LX line is perfect for astronomical observing, especially with short focal length telescopes. Fully multi-coated 3-element Apochromatic design offers superior sharpness and color correction.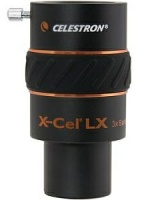 ONLY £72.00
---
Celestron Mini Maks bring portability and versatility to a new level. The Maksutov optical design is recognized for being compact, easy to use, and applicable for both terrestrial (land) and astronomical use.
C70 Mini Mak is a small but powerful spotting scope that includes a tabletop tripod which has built-in slow motion controls, a built-in zoom eyepiece capable of 90x magnification, and soft carrying case.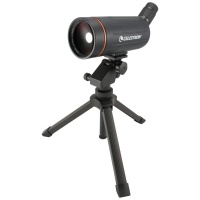 ONLY £93.00
---
Take your telescope anywhere with this portable, rechargeable power supply. Enjoy extended observing and imaging sessions worry-free with 17 amp-hours of power in one convenient package. Use the included removable red flashlight while your eyes are dark-adapted to find accessories and reference star charts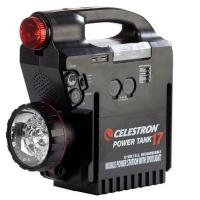 ONLY £99.00
---
The Celestron Luminos Barlow inserts between the eyepiece and eyepiece holder on the telescope and increases the magnification by 2.5x.
Premium quality 4-element fully multicoated lens assembly delivers superb field flatness and minimal chromatic aberration.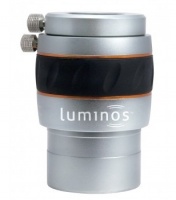 ONLY £99.00
---
Celestrons SkyMaster 20x80 large aperture binoculars are phenomenal value for high performance binoculars ideal for astronomical viewing or for terrestrial observation use - especially over long distances. Each SkyMaster model features high quality BAK-4 prisms and multi-coated optics for enhanced contrast.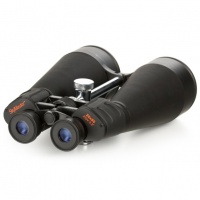 ONLY £99.00
---
The new PowerTank Lithium keeps the charge going for the astronomer on the go. The Lithium Phosphate (LiFePO4) battery chemistry has significant advantages over other battery chemistries.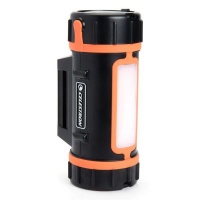 ONLY £115.00
---
The most compact model in our Ultima series spotting scopes, the 65mm refractor features a 45° viewing angle and excellent mulit-coated optics packed into a portable and durable refractor design and it comes standard with an 18-55x zoom eyepiece.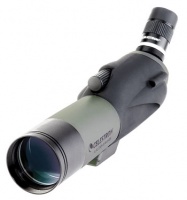 ONLY £109.00 - £115.00