Orion Optics Astrograph Information
This page contains all of the information about the Orion Optics UK Astrograph series of telescopes. Content will include information about the optics, wynne corrector, mirror cell, focuser and any optional extras that are available for these telescopes.
Introduction
Modern technology is now capable of applying space age materials to amateur telescopes. However, it is also relatively easy to produce these materials to different grades and of course, different qualities and prices. Our tubes are made from materials which are exactly the same as ones used on both Formula 1 racing cars, aerospace technology and orbiting Earth satellites. The reason we use this extremely high grade of carbon and resin is to achieve a virtual zero expansion rate and incredible strength. Both of which are essential to produce the highest quality images by maintaining a precise focal plane position and, an extremely rigid, and non flexible tube. Anything less is susceptible to focal plane movement through temperature change and flexure which produce irregular shaped star images, particularly at the field edge of an image. It is relatively easy to produce significantly lesser quality tubes and the lower price of the telescope is a feature of this. However, this can be a false economy if you are after producing the finest images possible. If you have a tube which flexes slightly or has a lower grade carbon/resin construction, there is virtually nothing you can do about it, you have got what you paid for and must live with it.
AG telescopes are precision computer designed, hand built instruments. The flat fields are achieved by employing a state of the art, lens corrector system, designed especially to produce a wide, flat fields up to 60mm diameter. All our AG 'scopes are supplied as standard with our 'ACU-3' custom designed and built 3" focusers (76.2mm) to offer excellent stability over a wide range of camera loads. For the ultimate focusing set up, we supply and fit customised adaptors to allow the fitting of the renowned FLI Atlas focuser in just a minute or so by customers which has an amazing carrying capacity. To aid stability even further, we also offer our 'FocusForm' equipment to reinforce every possible position where the smallest amount of flexure could take place, ensuring a rock steady platform for perfect, reliable, repeatable focusing of the image on your camera chip. Air cooling fans are fitted as standard in the telescope's main mirror cell to introduce cooling air to reach ambient temperature quickly and evenly assuring you of steady air within the tube and little or no possible currents to detract from a perfect image.
Below is a diagram of the lightpath through the AG optics.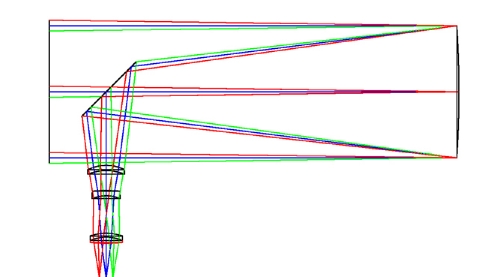 All our AG telescopes are extensively tested in our optical laboratories in our factory. However, there can be some small yet irritating effects created on long exposures of subjects on virtually all telescopes which may have a bright star in the field. This effect, if not corrected, can detract from a perfect image of stars and give a little roughness to the edge of a star's edge. It is caused by microscopic ground pits around the extreme edge of the chamfer of the primary mirror which can disturb ever so slightly the light and create this problem. To counter act this small problem, all our AG and ODK primary mirrors have a perfectly formed circular field stop placed around the chamfer of the mirror to eliminate completely this artefact. This stop creates a razor sharp star image, completely free from any slight scattering of light caused by this effect to yield star images, second to none in sharpness and contrast. Correct engineering and testing are essential to create designs such as this. We employ every design feature possible to get that little bit extra out of your telescope, we like to think on a par with the engineering success of F1 cars where nothing is spared for that little bit of extra power. For clients in colder areas of the world or, ones who live in humid locations with large temperature ranges, we offer a range of internal tube heaters which, are fitted snugly inside the tube by means of a spring loaded mild heating element embedded inside a spring loaded carbon split tube placed just above the primary mirror. This can be removed when not required in a matter of minutes. Also available are secondary heaters which drive off any unwanted dew or frost, on the secondary mirror.
Because of the extensive range of camera, filter wheels, guiders etc which are on the market, we offer a full range of adaptors which will enable you to position your camera chip exactly in the optimum focal plane position of 79mm to achieve the best possible performance of the telescope and corrector combination.
The AG series of Astrograph Newtonian telescopes are the best available anywhere, our optics are the key, which is proven even further by some of our OEM competitors buying our optics to fit into their own telescopes. There can't be a better recommendation.
Wynne Corrector
The AG corrector design was formulated after several months of designing and field trials on different types of cameras and telescopes. Not only is this corrector used on all our AG models but, it also performs incredibly well on other manufacturers telescopes, mirror sizes and focal ratios.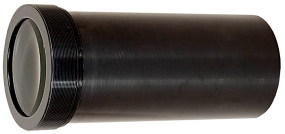 Our AG X0.95 Wynne corrector is very easily and efficiently used on many different sizes of paraboloids from the smallest up to large, 500mm mirrors. We illustrate this by displaying 8 options, 4 different mirror sizes with 2 popular imaging focal ratios for each. If you have a mirror which differs from any of these, please email us and we will gladly supply you with spot diagrams for your particular mirror. Illumination graphs are also available for any size of optic when using our AG corrector, please ask for specific plots for your mirror.
The corrector comprises of 4 elements of special glass types, two single lenses and a cemented doublet which enable the light from the telescope to be brought to a very wide, flat, false colour free focal plane of up to 60mm diameter field. The key to the design is the choice of some rare earth glass types and computer enhanced designing of the curves of the lenses. There are 4 lenses in our corrector, one more than competitors use for a specific reason. We have found that 3 lenses, which are commonly used in many systems, can produce good image qualities but, to get the best out of very accurate mirrors, you have to incorporate a fourth lens which enhances even further the optical performance. World famous imagers are unable to find any faults at all in their images. Cutting down the number of lenses in a corrector reduces the weight a little and reduces the cost a great deal but, it also reduces the performance, of that there is no doubt.

We designed the AG corrector to be a world leader in imaging performance, it lives up to it's design parameters.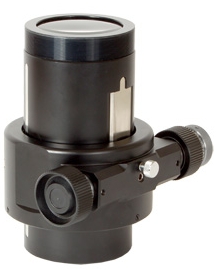 ACU-3 Focuser with Wynne Corrector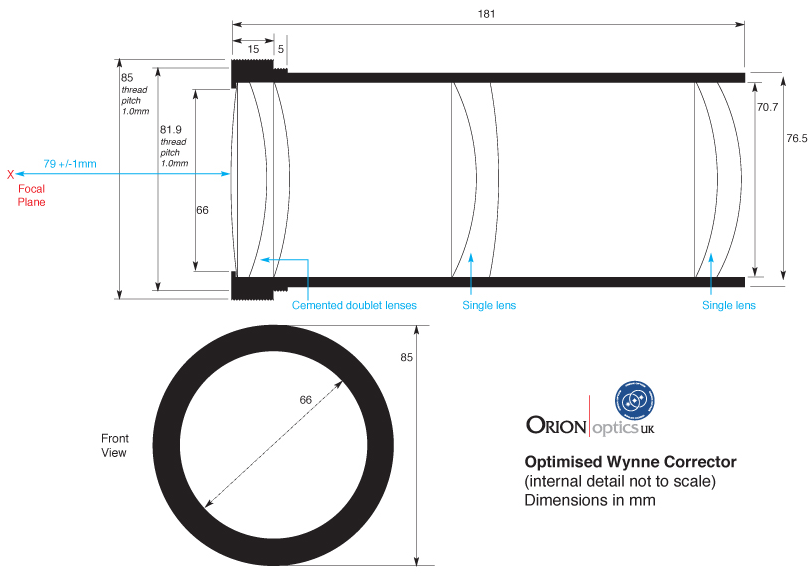 Optics
All our AG primary mirrors are made from Schott Borosilicate Low Expansion Suprax glass (virtually identical to Pyrex), as are all our primary mirrors on all ranges of telescopes. The mirrors are all produced to exacting standards to an F4 paraboloid configuration. How exact are they? Well, we don't release one to our coating department unless it achieves a surface accuracy of 1/16 wave or better. How do we know when we have achieved that very high degree of accuracy?
We use one of the worlds most exacting measuring devices, a Zygo Laser Interferometer. It can measure optical distances which are smaller than 2,000, yes, 2,000 times smaller than the thickness of a human hair.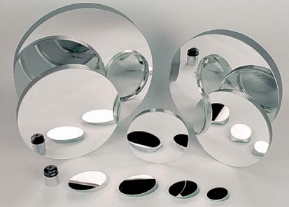 Without a Zygo or similarly accurate and reliable measuring instrument, it is impossible to give accurate measurements of an optics' or telescope's performance. Only the best manufacturers in the business of making telescopes use them because they are not suitable for mass produced telescopes, they are slow to use and need highly skilled technicians to operate them, it just does not lend itself to anything other than the highest quality, hand figured optics, definitely not mass produced optics to a tight budget.
The elliptical secondary mirrors are also made and Zygo tested to the highest standard, again in most instances (the larger sizes) we use Suprax to give stability and accuracy. These, along with the primary mirrors are Hilux coated for the highest possible aluminium protected reflective surfaces available.
ACU-3 Focuser
To improve even further the quality and performance of the AG range, we have introduced a completely new product in our focusers. The model we use on our AG series is our ACU-3L focuser (link). It has a full length draw tube 3" diameter, (76.2mm) internally threaded to accept both our celebrated 3" Wynne corrector and other accessories. These are not just pushed in, they are screwed in by precision threads. This gives an incredible amount of strength and freedom from any flexure, so common in large, push fit focusers. This focuser is also available to be bought as a separate item or inclusive of the Wynne corrector.
The initial focusing is carried out by the silky smooth main focusing knobs and then, when perfect positioning is required, the slow motion knob with added internal weights takes over to give very, very smooth movement down at a reduced ratio speed of a factor of 10:1, it just glides along at a very smooth, slow and precise pace, you have to actually feel this to appreciate just how good it really is.
Coupled with this smoothness comes strength. The ACU-3L carries most cameras on the market with ease, it really is a design which lends, smoothness, attractiveness and power which ensures you have no problems at all with this focuser.
For clients wishing to have the most rigid and repeatable focusing set up possible, we offer to fit the FLI Atlas digital focuser where customers so require. This equipment is the last word in quality and stability which can even be taken to a higher level by incorporating our Focus-Form platform (see image below) which adds geometric stability for even the heaviest cameras.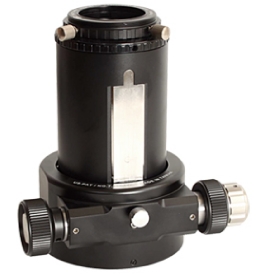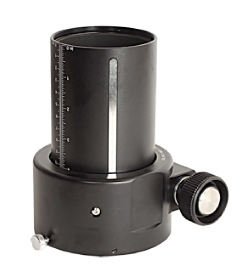 Dew Shields and Heaters
Dew shields and incorporated heaters are available as optional extras.Please note: If customers require these fitting to either ODK or AG telescopes we, by necessity, mould them internally to avoid movement and to maintain regular conduction and convection. These orders are then considered a custom order and cannot receive any refund if the order is cancelled for any reason.