SOLARQUEST MOUNT HEAD ONLY: Can be fitted to any tripod with 3/8" tripod thread. Solar observing has just been made incredibly easy!
ONLY £245.00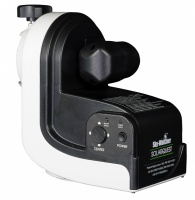 ---
The SKYTEE-2 is a heavy duty alt-azimuth mount capable of holding two telescope tubes of up to 15Kg each in parallel. A Skywatcher/Vixen type dovetail saddle plate is included on each side of the mount.
ONLY £260.00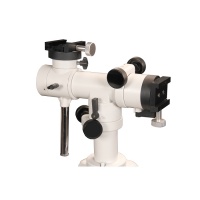 ---
The user-friendly Sky-Watcher Star Adventurer provides various combinations to satisfy all you needs for astrophotography and time-lapse photography. It is a high precision, portable and stable celestial tracking platform for sidereal, solar and lunar tracking.
ONLY £299.00 £262.00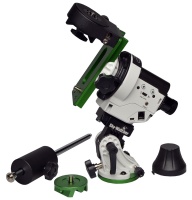 ---
Do you already own a photo camera and would like to create impressive pictures of the night sky with the help of the long exposure or even make time-lapse pictures with little effort ? The BRESSER photo mount is the ideal base. Not only for beginners in astrophotography, this mount is particularly well suited, but also the experts swear by a compact and easy-to-use mount to automatically compensate for the natural rotation of the earth.
ONLY £265.00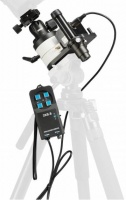 ---
German Equatorial mount and tripod as supplied with all Omni XLT Series telescopes
Includes RA and DEC slow motion controls and setting circles
Tripod has adjustable height 1.75" steel leg tripod with center brace/accessory tray
Two counterweights - 7 lbs and 4 lbs
ONLY £269.00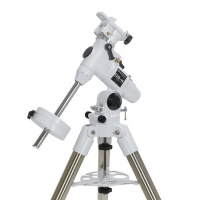 ---
The BRESSER photo mount is designed for a camera with lens of max. 2.5 kg total weight to carry and track. Large aperture, wide-angle lenses are ideal for the beginning, because the requirements for tracking accuracy accumulate with increasing focal length and exposure time.
ONLY £310.00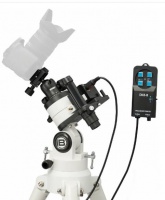 ---
This amazing kit features the massively popular Star Adventurer imaging bundle along with the matching Star Adventurer tripod as a ready to go package.
ONLY £320.00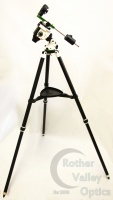 ---
The award winning, innovative and highly versatile Sky-Watcher Allview motorised robotic mount & tripod is an indispensible companion for all your imaging and observational needs.
ONLY £325.00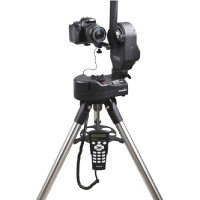 ---
The BRESSER EXOS 2 is a rugged mount with high rigidity and precision tracking for visual observation and astrophotography. The tripod is extremely rigid to suppress vibrations really well. This model is very well machined and has an illuminated polar finder scope and precise graduated circles.
ONLY £330.00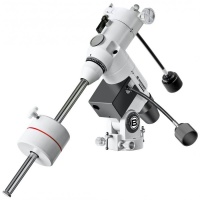 ---
The Explore Scientific iEXOS-100 PMC-Eight Equatorial Mount is an innovative, highly portable German Equatorial mount. Built for both visual astronomers and astrophotgraphers alike, this mount will take a visual payload of 19lbs/8.6kg
ONLY £349.00