Beginners Telescopes
Here we have compiled a list of our recommended beginners telescopes. We have a few different type such as refractors, reflectors and maksutov telescopes. All do certain things better than others. As always, if you need help in deciding on the best telescope, just get in touch with us.
Recommended accessories for all these telescopes are below with links that will open a new window.
Antares Moon Filter
Philips Planisphere
Antares Red LED Torch
Antares 0.5x Focal Reducer (only for Maksutov telescopes)
If you require any help with choosing the right telescope or help with accessories just get in touch on 01909 774 369 or email us at sales@rothervalleyoptics.co.uk.
Rother Valley Optics have put together a beginners package which is suitable for any telescope. The kit comes with a planisphere, Skywatcher ND Moon Filter and an ADM Red Torch. All these items are perfect to go alongside any telescope to get you up and running.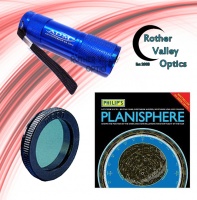 ONLY £28.00
---
Named Official Product of International Year of Astronomy 2009, FirstScope pays tribute to the men and women who brought us one step closer to understanding the universe around us!
In 1609, world-renowned Italian scientist, Galileo Galilei, introduced an elementary telescope to the growing astronomy community which sparked interest into the mysterious night sky for centuries to come. Four centuries later, in celebration of the International Year of Astronomy 2009, Celestron offers the portable FirstScope Telescope. The FirstScope pays tribute to Galileo Galilei and many of history's most notable astronomers and scientists by displaying their names around the optical tube. We honor the contributions of these men and women, who brought us one step closer to understanding the universe around us.
ONLY £79.00 £44.00
---
The Sky-Watcher Heritage-76 has been specially designed to celebrate the International Year of Astronomy (IYA) and the 400th Anniversary of Galileo's first telescope. This is not only a highly functional precision optical instrument but also a beautiful collector's piece, desk or shelf ornament, and ideal gift.
ONLY £47.00
---
60mm (2.4") f/700 REFRACTOR
A fantastic entry level telescope aimed for kids. An easy to use, quality, lightweight instrument. It will show nice detail on the moon and bright deep sky objects.
ONLY £58.00
---
The LightBridge Mini 82 allows you to set up and share a stargazing experience in seconds. Whether you are camping in the outdoors or relaxing in your backyard, the LightBridge Mini Dobsonians are the ideal "grab-and-go" telescopes
ONLY £59.00
---
The SkyWatcher Mercury 707 70mm Refractor Telescope offers fine views of the Planets, Moon and brighter deep sky objects. Complete and ready to use this instrument offers excellent performance at a remarkable price.
ONLY £74.50
---
A nice starter telescope with a decent aperture. Easy to use AZ mount means more observing! An absolute great beginners telescope!
ONLY £75.00
---
The Infinity telescopes come complete with everything you need to view the wonders of the night sky the first time out. They feature an altazimuth mount with slow motion controls for tracking celestial objects as they move across the night sky.
ONLY £84.00
---
The compact Heritage-100P is a lightweight and convenient grab-and-go scope. With its quality 100mm f/4 parabolic optics, it can be used to view the Moon and bright planets and also has enough light gathering for the observation of star clusters, bright galaxies and nebulae.
ONLY £132.00 £96.00
---
The Sky-Watcher CAPRICORN 70 (EQ1) is an excellent choice for the novice astronomer. It features an equatorial mount with manual slow motion controls to make tracking and locating objects easy.
ONLY £106.50