Beginners Telescope Buying Guide
Welcome to the Rother Valley Optics telescope buying guide
Here, we can help you decide on the right telescope for your needs based on a few questions. The process will lead you to some recommended telescopes along with some useful accessories to ensure you get the best package for your needs, the first time round.
Firstly, please select either Child or Adult from the 2 images below. This is the person who will be using the telescope.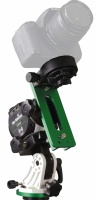 Ex Demo Skywatcher Star Adventurer Mini Wifi Pro Pack£235.00 £215.00
The Sky-Watcher Star Adventurer Mini Wi-Fi (SAM) is a compact high-precision camera tracking platform that is ideal for long exposure astrophotography as
well as time-lapse photography in daytime and night time settings. SAM easily fits in your backpack or camera bag, making it a convenient travel companion
that can venture with you into remote locations.