Second Hand Telescopes
We buy second hand telescopes, mounts and accessories all at competitive prices! If you have some used equipment for sale, simply email us at sales@rothervalleyoptics.co.uk with what you have for sale. Try and include some pictures if you can as this will help us value your equipment. Please also include details such as age, condition, any marks, electronics condition, any included accessories and extras. Once we have this, we can give you a value of your goods.
Please see below our current range of second hand telescopes. Click here to see our second hand accessories. Please keep checking back as more and more items are added weekly!
A pre-owned Skywatcher Skymax 180 Optical Tube in very good condition. The mirrors are clean and we have checked the focsuer, this scope is ready to go. Comes with 2" diagonal and finderscope only. This is a great scope for planetary observing and imaging.
ONLY £675.00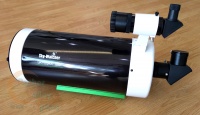 ---
A second hand Celestron CPC 11" Telescope in great condition. The mirrors are clean with no marks and we have checked the collimation. The GPS and GOTO is in full working order. This scope is ready to go! Overall it's in excellent condition with just minor wear and tear. Comes with original accessories including 40mm eyepiece, diagonal and finderscope.
ONLY £2,500.00