Second Hand Telescopes
We buy second hand telescopes, mounts and accessories all at competitive prices! If you have some used equipment for sale, simply email us at sales@rothervalleyoptics.co.uk with what you have for sale. Try and include some pictures if you can as this will help us value your equipment. Please also include details such as age, condition, any marks, electronics condition, any included accessories and extras. Once we have this, we can give you a value of your goods.
Please see below our current range of second hand telescopes. Click here to see our second hand accessories. Please keep checking back as more and more items are added weekly!
This is a superb example of these wonderful telescopes. The Meade RCX 400 12". Huge aperture to give crisp, sharp and detailed views. The clever computerized system, makes locating objects a breeze. You can also collimate the telescope using the handset.
---
A fantastic beginner telescope in very nice condition. This package is perfect for anyone looking to get into astronomy. Comes with upgraded 9x50 finderscope. Large 130mm aperture reflector telescope in the blue livery and EQ2 mount and tripod.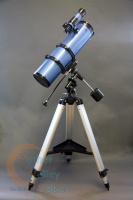 ONLY £135.00
---
Very good condition Skymax 127 OTA. All optics are clean, and collimation has been checked. This is for the tube only, there is no finderscope or diagonal included, but does include a finder base, vixen bar and soft carry case.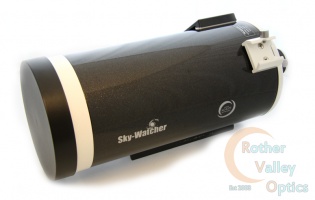 ONLY £180.00
---
---
We have here an excellent example of these stunning telescopes. The Skymax 150 Pro OTA features Schott glass and a large 6" aperture. These telescopes sometimes get dubbed the planet killer as they are stunning on solar system work.
ONLY £400.00
---
This great combination combines the Bresser AR-102/1000 telescope tube with the popular, heavy duty EXOS-2 mount. Very stable and ideal for planetary observing. This is a second hand telescope but you wouldn't believe it.
ONLY £425.00
---
If your looking for something special in the Achromat range, then we highly recommend this combination. This telescope includes a brand new Antares Elite 105mm refractor on a second hand Skywatcher EQ5 mount and tripod.
ONLY £625.00
---
Second hand Celestron C8 SCT OTA. Excellent condition. Nice clean optics and collimated by eye. A fantastic tube that will show nice detail in planetary and deep sky.
ONLY £700.00
---
Stunning example of these amazing telescopes by Meade. A 6" ACF high quality tube on the advanced LightSwitch mount. This telescope self aligns and obtains GPS from a Sony sensor built into the fork arm. All you need to do is turn it on and in around 10 minutes, you are ready to look at the skies.
ONLY £1,200.00
---
Comes complete with new losmandy mounting bar and ADM guidescope system. All optics are in excellent condition, clean and have been checked.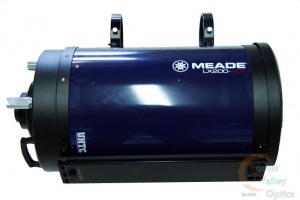 ONLY £1,250.00