Second Hand Telescopes
We buy second hand telescopes, mounts and accessories all at competitive prices! If you have some used equipment for sale, simply email us at sales@rothervalleyoptics.co.uk with what you have for sale. Try and include some pictures if you can as this will help us value your equipment. Please also include details such as age, condition, any marks, electronics condition, any included accessories and extras. Once we have this, we can give you a value of your goods.
Please see below our current range of second hand telescopes. Click here to see our second hand accessories. Please keep checking back as more and more items are added weekly!
Second hand but in good condition. The Celestron Astromaster 130 EQ is a great telescope to start off with. Large 130mm aperture will show you nice detail in deep sky objects and the moon.
ONLY £100.00
---
A Celestron Nexstar 130 SLT telescope in used but good condition. The mirrors are clean and have been colimated. The electrics, goto system and motors have been tested and are in full working order. This is great GOTO telescope with a large 130mm aperture.
ONLY £300.00
---
Here we have a very nice Skywatcher Explorer 200p on an EQ5 Mount in excellent condition. This telescope and mount have been very well looked after. There is no play in the mount and the tube is in excellent working order. Comes with a 2X barlow lens, 6mm Ultrawide Eyepiece and 9x50 finderscope.
ONLY £350.00
---
Here we have the Orion Optics UK OMC140 Mak OTA that has just been serviced by Orion Optics. The primary mirror has been resilvered and the coatings have been re applied. This is a superb scope that is ideally used on the moon, planets and bright deep sky objects.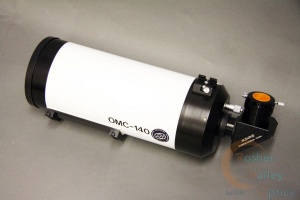 ONLY £600.00
---
A Celestron 9.25" SCT telescope in very good condition. The optics are clean and the collimation has been checked. This comes with the vixen style dovetail bar. There are some marks to the bar, but this is only cosmetic and does not effect the operation. Comes with front cap, visual back a back cap. The scope is in full working order.
ONLY £900.00
---
A very nice pre-owned Orion Optics 12" Newtonian optical tube in very good condition. This has the higher quality 10th wave mirror option, and the upgraded OC1-M focuser. Made in the UK this is a high quality reflector perfect for deep sky, lunar and planetary observing.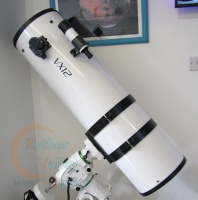 ONLY £900.00
---
A stunning example of these incredible Takahashi OTA's. The mirror is perfect and clean and the focuser systems works well. Comes complete with matching Takahashi finderscope and front cover.
ONLY £2,400.00