Second Hand Telescopes
We buy second hand telescopes, mounts and accessories all at competitive prices! If you have some used equipment for sale, simply email us at sales@rothervalleyoptics.co.uk with what you have for sale. Try and include some pictures if you can as this will help us value your equipment. Please also include details such as age, condition, any marks, electronics condition, any included accessories and extras. Once we have this, we can give you a value of your goods.
Please see below our current range of second hand telescopes. Click here to see our second hand accessories. Please keep checking back as more and more items are added weekly!
High quality Vixen 80mm achromatic refractor OTA. In excellent condition. Will provide nicely corrected views of the moon and planets. Please note, no end cap is suppled so one would have to be sourced by the user.
ONLY £130.00
---
Here we have the Orion Optics UK OMC140 Mak OTA that has just been serviced by Orion Optics. The primary mirror has been resilvered and the coatings have been re applied. This is a superb scope that is ideally used on the moon, planets and bright deep sky objects.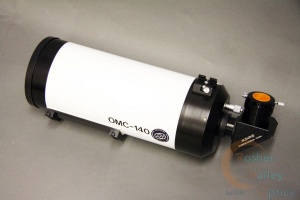 ONLY £600.00
---
Beautiful example of these very popular telescopes. The LX90 features a large 8" mirror, UHTC (ultra high transmission coatings) for high transmission observing, Meade Autostar handset and perfectly clean and well aligned optics.
ONLY £999.00
---
Second hand Skywatcher Skyliner 350P 14" Flex Tube SynScan GOTO Dobsonian. Comes complete with all standard accessories and an Astrozap light shroud. The optics are nice and clean and the GOTO has been tested and works perfectly.
ONLY £1,100.00
---
Here we have a beautiful example of a Meade LX200 8" SCT Telescope. This model is approximately 7 years old. This telescope has a built in GPS
for automatic time/date/location input into the handset. High quality UHTC coatings for bright, high transmission observing. Full GOTO system with Autostar II handset.
ONLY £1,699.00
---
This tube is second hand but in immaculate condition. This was part exchanged by one of our regular customers who only owned this for a few months. Comes with the extension tube for the focuser and aluminium flight case.
ONLY £1,800.00
---
Second hand Vixen AX103S ED Triplet OTA. Excellent condition. Optics have been checked in regards to collimation and have had a thorough clean. A superb telescope with superb colour correction. Very sharp and ideal for imaging. Comes as an OTA only.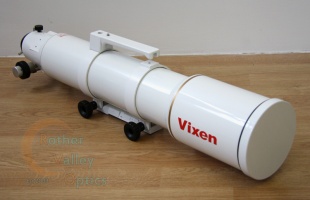 ONLY £1,899.00
---
Second hand but in very good condition. Traded in for the next size up. Motors, GPS, optics all checked and spot on. A nice size telescope and still portable. Comes with all the standard accessories. Full description of this amazing telescope can be found below. This comes with the popular HD Pro wedge for more precise tracking.
ONLY £1,999.00
---
This telescope is second hand but in excellent condition. The objective is perfect with no marks or blemishes. The optics are in perfect collimation too. A huge ED refractor. Comes with 2.5" rack and pinion focuser, APM finderscope and hard flight case.
ONLY £2,099.00
---
A stunning example of these incredible Takahashi OTA's. The mirror is perfect and clean and the focuser systems works well. Comes complete with matching Takahashi finderscope and front cover.
ONLY £2,400.00