A Star Diagonal brings the eyepiece out at 90 degrees from the telescope tube, allowing comfortable viewing when the telescope is pointed at, or near, the zenith (i.e. directly overhead). The resulting image is the right way up, but is reversed from left to right.
ONLY £28.00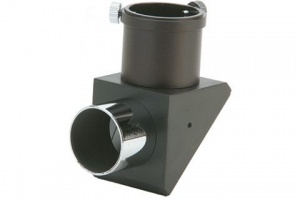 ---
Celestron's 1-1/4" Erect Image Diagonals are an Amici prism design. This design allows you to look into the telescope at a 45° angle.
ONLY £28.00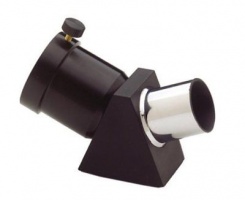 ---
Star diagonals let you view objects at a 90° angle from the direction the telescope is pointing, which means viewing will be much more comfortable, especially when the telescope is pointing straight up.
ONLY £28.00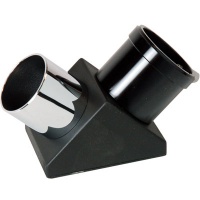 ---
Upgrades your existing cheap prism or mirror diagonal (ie the ones you commonly get bundled with telescopes) for vastly improved resolution at the eyepiece.
ONLY £29.99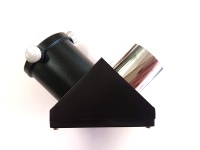 ---
A high quality 90 degree star diagonal. For use with Refractor and SCT telescopes. Using this diagonal will ensure a comfortable viewing position when using your telescope.
ONLY £32.00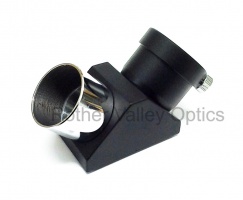 ---
This 90° diagonal will provide corrected views on Refractor and SCT telescopes. High quality finish such as chrome barrel and high quality thumb screws for securing eyepieces.
ONLY £34.00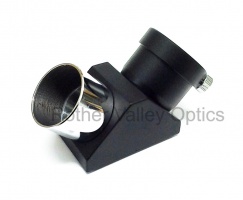 ---
45° Erecting Prisms include an internal flat mirror to reflect light to the telescope's 90° astronomical observing position; in this position the telescope's image is upright, but reversed.
ONLY £34.99
---
High quality 45° erect image diagonal. Corrects the image on refractors and SCT telescopes. The 45° angle will provide a comfortable viewing position when using your telescope terrestrially.
ONLY £35.00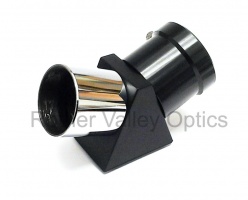 ---
This 45-degree viewing angle image erecting diagonal is designed to use 1.25" eyepieces in catadioptric telescopes with a 1.25" visual back or in refractors with a 1.25" focuser drawtubes.
ONLY £37.50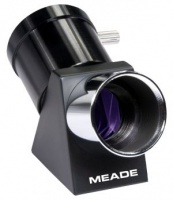 ---
This diagonal is for astronomers who prefer the convenience of 90-degree viewing but want to view a fully corrected image, ie the right way up and not mirror-reversed left to right.
ONLY £39.99