A high quality made finderscope base for Skywatcher and Antares Synta style finderscope brackets.
ONLY £6.50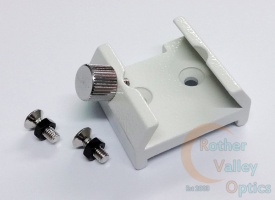 ---
This spare base for the ever popular Telrad finder enables the finder to be used on more than one scope. Simply attaches via self adhesive pads (supplied) or fixing holes. Designed to fit nearly all tube diameters from 4" upwards.
ONLY £9.00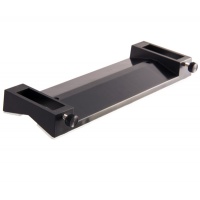 ---
Shoe for Bresser, Explore Scientific & Meade Finderscopes - will fit finder brackets from Bresser, Explore Scientific and Meade. Black with white nylon thumbscrews.
ONLY £12.00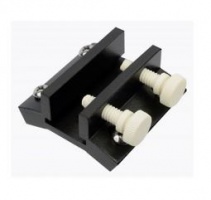 ---
This finder mounting shoe / bracket is compatible with Altair and Starwave finder scopes and Red Dot Finders. Although usually included in finder scope kits, it can be ordered separately for use on multiple telescopes.
ONLY £15.00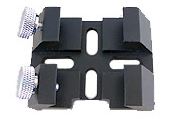 ---
The bracket has a clever two-screw spring-loaded adjustment system that allows precise and quick calibration with the main instrument - robust enough to remain in perfect collimation after the telescope is stored ready for the next observing session.
ONLY £19.99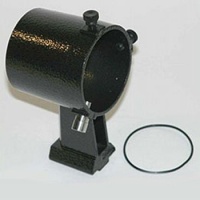 ---
The Baader Universal Quick Release finder base (finder-shoe) is compatible with most standard finder brackets and some red dot finders. The base can also be used as an additional base on telescopes that don't already have a finder shoe in a convenient position.
ONLY £24.00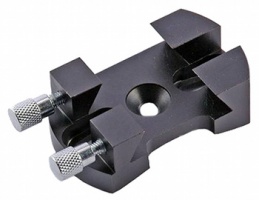 ---
High quality made laser pointer bracket with 6 point screw adjusters. This features a synta style base for compatibility with most telescopes. It also has 2 rings with 6 screws for ultimate adjustment when using a laser pointer as a finderscope.
ONLY £24.99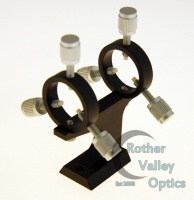 ---
High quality made laser pointer bracket with 6 point screw adjusters. This features a removeable curved base to fit many scopes. This attaches to your scope with one screw countersunk in the bottom of the finder base.Comes with a ring that can be fitted to the laser so that it is permanently on.
ONLY £24.99
---
William Optics vixen style finderscope base to suit the RedCat 51 telescope. Ideal if you already have a good vixen style finderscope bracket for use with your RedCat.
ONLY £25.00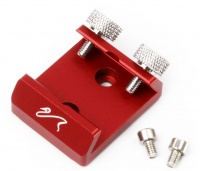 ---
The Takahashi 6 x 30 finderscope bracket is compatible with the Takahashi 6 x 30 straight finderscope. For mounting the finderscope to the optical tube assembly. Finderscope is sold seperately using code TKA00551.
ONLY £40.00