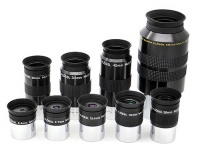 Meade Series 4000 Super Plossl Eyepieces£29.00 - £75.00
The world standard in telescope oculars, Meade Series 4000 eyepieces yield the widest possible fields of view, consistent with pinpoint edge-of-field sharpness and long eye relief—and yet with extremely low astigmatism, spherical aberration, and off-axis color.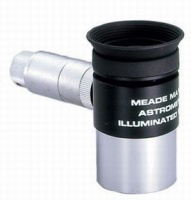 Meade 12mm Astrometric Wireless Eyepiece 1.25"£78.00
A high-precision eyepiece for a wide range of astronomical measurements, the Meade MA12mm Astrometric Eyepiece is an important tool for the advanced amateur.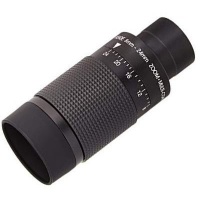 Meade Series 4000 8 - 24mm Zoom Eyepiece 1.25"£84.00
High-resolution optics that realize the full potential of the zoom format. Because, finally, this is a zoom eyepiece designed for the advanced amateur astronomer who is uncompromising in his or her optical performance specifications.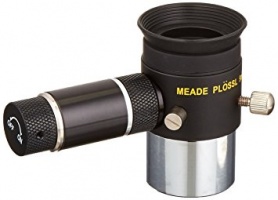 Meade 9mm Illuminated Reticle Eyepiece Wireless£86.00
Series 4000 Plössl 9mm Illuminated Reticle Eyepiece: The most advanced commercially-available illuminated reticle eyepiece, this Series 4000 Plössl 9mm model includes micrometric x-y positioning controls which greatly facilitate locking onto the guide star.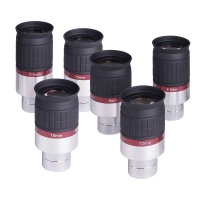 Meade Series 5000 HD-60 LE Eyepieces 1.25"£94.00 - £530.00
The latest advancement in the Meade Series 5000 eyepiece series offers a large 60° apparent field of view and a flat field of view which is tack sharp right to the edge. This design provides more than 17mm of eye relief for terrific viewing comfort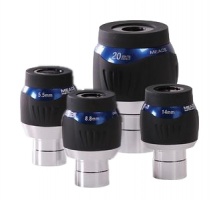 Meade Series 5000 UWA 82° Series Eyepieces£144.00 - £189.00
Meade Series 5000 Ultra Wide Angle eyepieces offer revolutionary new advances in resolution, image correction and eye relief, with an astonishing 82° field of view and waterproof construction.