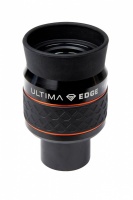 Celestron 18mm Ultima Edge UFF 1.25" Eyepiece£119.00
The Ultima Edge 18mm has a generous 65° field of view perfect for viewing planets, stars and the Moon's surface. This eyepiece provides higher-powered magnification, perfect for those times when you want to get up close to smaller objects.


Omegon 1.25" Eyepiece & Filter Kit£171.00
This small eyepiece case includes a useful set of accessories for the newcomer to astronomy. After having bought the telescope, people often don't have the right accessories to be equipped for all spotting situations. In many cases, beginners find it difficult to decide which are the eyepieces and filters they need.