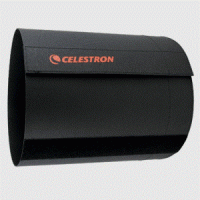 Celestron C6/C8 Flexible Dew Shield£26.00
A Lens Shade/Dew Cap is a tube, of approximately the same diameter as your telescope tube, designed to fit on the front end of the telescope to reduce the amount of dew that builds up on the corrector plate. It also serves as a Len Shade by preventing stray light from falling on the corrector plate, which greatly improves contrast.


Celestron NexYZ 3 Axis Universal Smartphone Adaptor Promotion£39.00
NexYZ fits any eyepiece from 30 mm to 60 mm in diameter including telescopes with 1.25" and 2" eyepieces, spotting scopes, monoculars, and binoculars.