The Explore Scientific iEXOS-100 PMC-Eight Equatorial Mount is an innovative, highly portable German Equatorial mount. Built for both visual astronomers and astrophotgraphers alike, this mount will take a visual payload of 19lbs/8.6kg
ONLY £349.00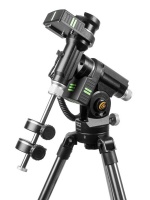 ---
Born out of the popular iOptron CubeTM and iEQTM mounts, the SmartEQTM Pro mount is the ultimate Grab N' Go German equatorial GOTO mount fitting into almost everyone's budget. It is ideal for visual observation and wide field astrophotography.
ONLY £385.00 - £435.00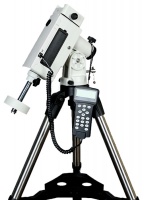 ---
Sky-Watcher offers simple solutions for users who would like to attach their smaller telescope to a convenient computerised system but do not wish to deal with the weight of the HEQ5 or EQ6 PRO mounts.
ONLY £399.00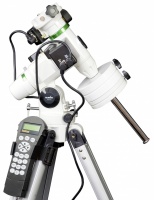 ---
The Sky-Watcher EQM-35 PRO Synscan Modular Equatorial Mount offers the versatility of two mounts in one! A normal Go-To equatorial mount and a lightweight photo imaging mount, which is convenient for travelling.
ONLY £555.00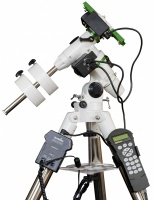 ---
The Bresser Messier Exos 2 Goto Mount is fully featured equatorial Goto mount, capable of carrying instruments in the 3-5-inch class (refractors) or 5-8-inch class (shorter focal length reflectors and catadioptrics).
ONLY £678.00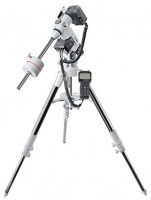 ---
The Explore Scientific EXOS2-GT with PMC-8 Electronics is a big leap forward in goto mount design and functionality. Based on the Exos2 German Equatorial mount architecture, Explore Scientific have added new belt driven dual stepper motors
ONLY £892.00 £685.00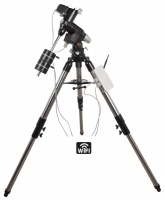 ---
The CEM25P has all of the features of the CEM25 and now has a guaranteed low periodic error of ~+/- 10 Arc seconds or less. The improved tracking accuracy is a product of tighter production tolerances.
ONLY £725.00 - £839.00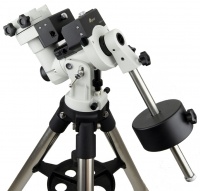 ---
Meade's new LX85™ Series features a high-quality, portable, GoTo, German equatorial mount with AudioStar® Hand box. The LX85™ Series is the perfect choice for the cultivated observer and astro-imager looking to chase deep sky objects!
ONLY £725.00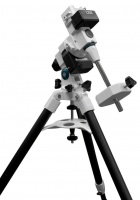 ---
Please note this mount is a customer return so it has been opened, but it hasn't been removed from the packaging or used at any point.
Re-Engineered Upgrade To The CG-5 Mount
Engineered from the ground up with astroimaging in mind, the new Advanced VX series from Celestron sets a new standard in mid-level telescopes. Advanced VX provides you with many of the features found on Celestron's most sophisticated German equatorial mounts, at an extremely affordable price.
ONLY £899.00 £779.00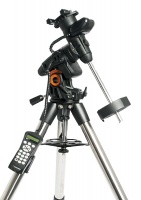 ---
Designed for amateur astronomers seeking superior equatorial control and the ease of a precision computerized GOTO system, the HEQ5 PRO SkyScan is your answer. The Sky-Watcher HEQ5 PRO SkyScan is designed with the novice user in mind. With the user-friendly pushbutton hand control, locating and viewing the treasures of the night sky becomes as easy as a walk in the park.
ONLY £795.00